universe
Franck Genser's creations are primarily works of art, sculptures that capture light and attention, combining the excellence of fine craftsmanship, the quality of the materials used, and technological achievements. It is from this unique combination that each project emerges, a harmonious blend of function and form.
"The paradigm of our work is to unite artwork and furniture, aesthetic function and usage."
Fascinated by the soul of objects and all dimensions of their influence on individuals, Franck Genser is deeply attached to the relationship between human beings and their environment. Our furniture becomes familiar; we live with them daily, and they become our "companion furniture."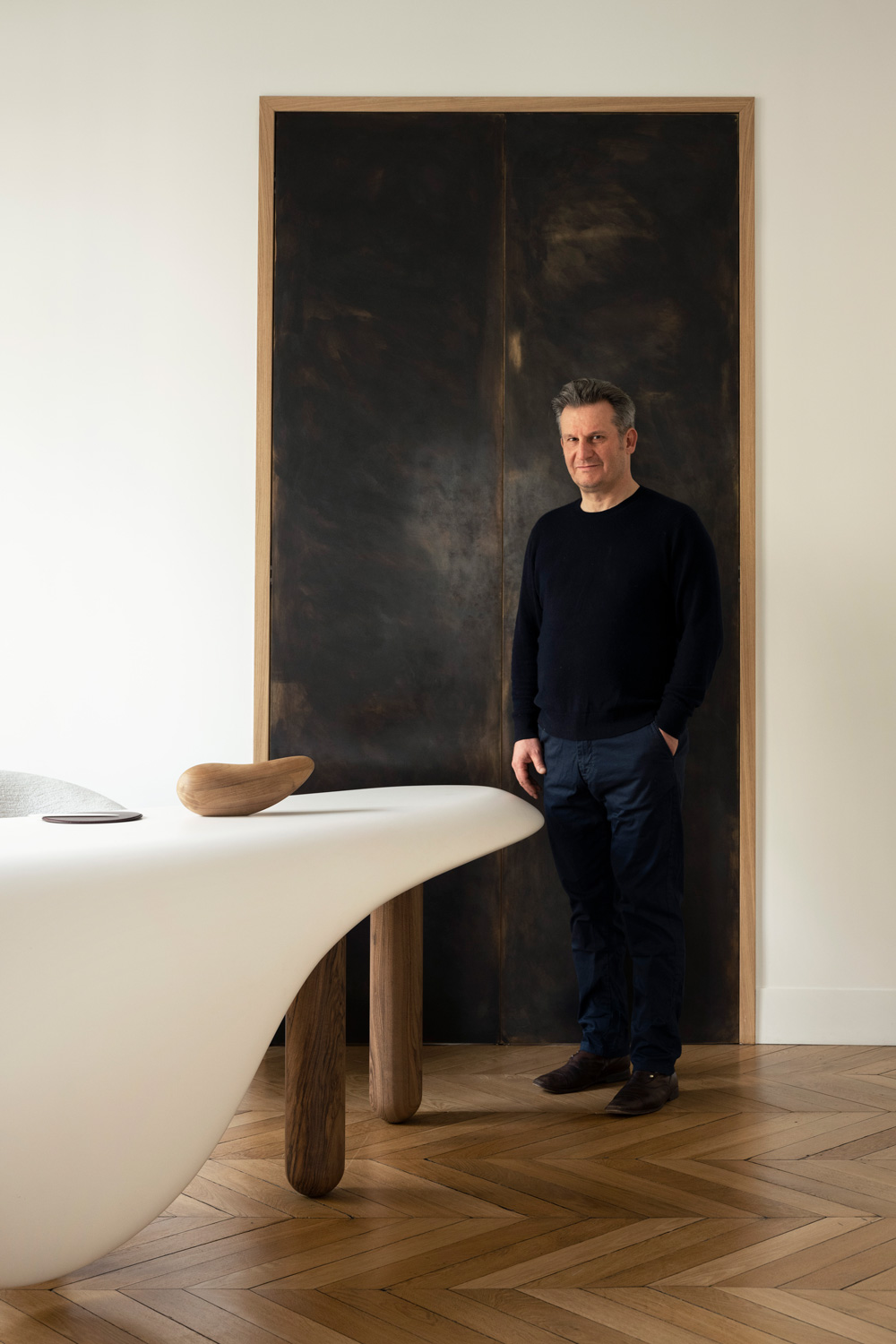 From the creative process that combines mastery of digital tools and virtual reality to prototyping, our Parisian workshop brings together designers, engineers, and artisans to develop unique pieces or small series. Driven by strong values, the ecology of materials is at the heart of each project: noble materials, solid wood, parchment, vegetable lacquer— we preserve the natural characteristics of the materials.
We design and manufacture with a perspective that is both sustainable and focused on heritage. The designer's approach is inherently that of customization. Each piece must seamlessly integrate into its intended space and embody the identity of its owner.
With an engineering background and over 30 years of entrepreneurial experience, Franck Genser has created and developed businesses in various sectors and countries, taking him around the world. Throughout this journey, Franck Genser nurtured his passion for Decorative Arts and Art Nouveau, which he discovered as a child in auction rooms. These experiences allowed him to develop an intimate relationship with furniture.
Unable to find this same sense of intimacy and emotion in what the market offered, he founded his brand in 2016. The brand is both timeless and contemporary, aiming to reflect our era and bring craftsmanship to life through heritage and sensual creations.
Today, Franck Genser views furniture as an essential element of the environment. The shape, surface, and material of an object contribute to both the conscious and unconscious experiences of its users. The designer applies this design philosophy to interior architecture as well. The room and its arrangement, along with the light it provides, exist and shape the experiences of the men and women within it.
Atelier Franck Genser offers new forms to materialize new ways of being. The emergence of ideas gives birth to concepts, processes, and objects, both economical and physical. The workshop's uncompromising approach to craftsmanship aligns with a heritage perspective. Through his creations, Franck Genser reinvents a uniquely French elegance.